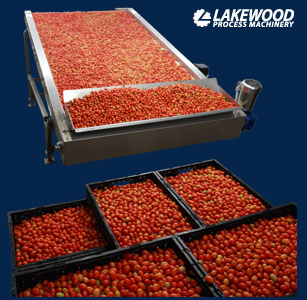 Lakewood's elevating infeed conveyors allow you to introduce your produce onto your packing line easily, evenly, and efficiently. Each infeed conveyor comes standard with an adjustable metering hopper which allows workers to gently dump product into the hopper without having to manually spread it around to get an even flow over the next pieces of equipment in your line. This conveyor also features multiple telescopic frame adjustments which make it possible to adjust your conveyors angle and leg height with ease.
How our Elevating Infeed Conveyors work:
Workers simply tip lugs of produce over into the adjustable metering hopper. Once the tomatoes are in the hopper, the conveyor below begins moving the tomatoes from the bottom of the hopper up and over the incline of the belt in order to reach  the height of the next pieces of equipment in line. With a fully adjustable frame, and telescopic legs, it fits the front end of almost any packing line, and takes the work out of ensuring an even flow of product throughout your line.
Download the brochure here