Wash, dry, and inspect your produce all on one conveyor with a Lakewood Washer / Dryer Combo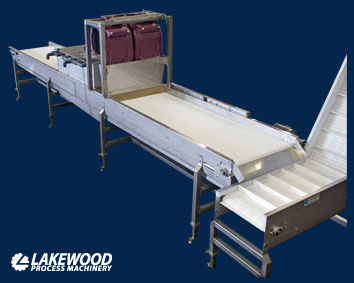 Each washer / dryer combo is equipped with all stainless steel construction, a stainless steel wire belt or flat-top grid style plastic belt to allow water and debris to easily make it's way off of the product and through the belt during the washing process. Product is spread across the infeed end of the conveyor for an initial inspection, then conveyed underneath a spray-wash section where a thorough washing / sanitizing takes place. From the wash booth, product is immediately introduced to either a Water Stripper which strips water off of and away from the product, or a 'carpet-style' blower to remove excess water from the product.
Lakewood offers a growing number of styles and sizes of the washer / dryer combo to suit the needs of both low-volume and high-volume packing facilities.