Easily Remove Sticks From Your Machine Harvested, Fresh-Pack Fruit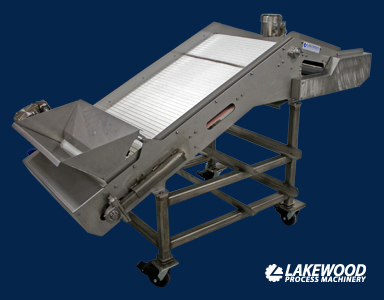 All stainless steel construction
Low profile z-style belt transfer for more gentle drops
Metering hopper included
Lakewood's Fresh Pack Stick Eliminator reduces cleaning time and eliminates clogs and jams in your fresh packing line. The Stick Eliminator separates and removes sticks and large debris from product flow, so you can take product straight from the field to your fresh line.
Berries are conveyed over the end of the incline conveyor and onto another conveyor below, where sticks and product are introduced to the stick eliminating spools. These custom turned aluminum 'scalping' spools allow berries to gently drop to a conveyor below while sticks, clusters, and larger debris carry over the rollers into a lug.
The unique design of this machine allows for placement into almost any existing packing line.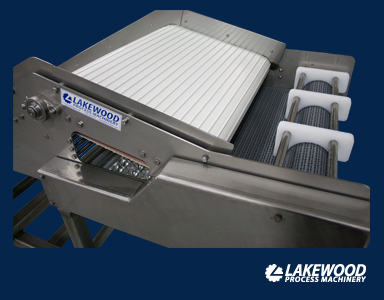 Fresh Pack Stick Eliminator Capacities
Approximately 8,000 lbs per hour
Fresh Pack Stick Eliminator Options
Infeed Length: 6′ or 9′
Infeed Conveyor: Cleated Rubber Belt
Lower Conveyor: Open Grid Plastic Belt
Download the brochure here